Hi Everyone, We wish you and your family a happy Ganesh Chaturthi and may Lord Ganesha bless you health & wealth. Chain of festivals is set and Eventhough you'd be a foody person, you definitely want to maintain your health & stamina. Isn't it? Just like traveling, savings & investments. A strong balance! Our one of the happy subscriber – Mr.Nishit Shah 
(Advisor at Shalibhadra Master Investment Broker)
 thinks that if you don't invest equally in health, What would you do with that wealth? How shall you enjoy your retirements?
He along with his father always has a different perspective of investment, which is just not about money but also relationship, love, passion and happiness. A complete pie-chart. Though he says, Mutual Fund Sahi hai. He says Milkmor's Gir Cow Ghee Super-Sahi hai.. By the way, Milkmor congratulates him and his wife for the new member in his family, they were gifted a baby girl recently by the grace of god.
He kept extra stock of Gir Cow Ghee for his wife as she needs immense nutrition and nourishment for herself and the baby during these sensitive days. The Gir Cow Ghee which is hand-churned alongwith Milkmor's Farm Fresh Cow Milk helps good transition of vitamins & minerals to both of them. He also gifted the Ghee to his Jijaji & Sister this rakshabandhan and he got this compliment. "Aanu packing toh zordaar che, aney sugandh pan Saras che..  ekdam pure!!" (The packing is good including its aroma and purity)
Nishit & his family trusts Milkmor! So you also plan your pie-chart healthily and happily.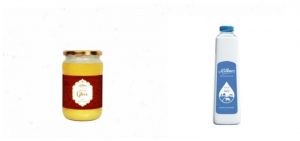 Join more than 10,000+ members on our Facebook & Instagram page. Know more about interesting Stories and write your own & Recipes and send it to komal@milkmor.com to win lots of gift vouchers.
Subscribe Now: Click Here