How to Order
---
Our Bank Details:
Beneficiary name: Astha Dairy Farm
Bank : State Bank of India
A/c no: 35915589951
IFSC code : SBIN0013455
Paytm QR code :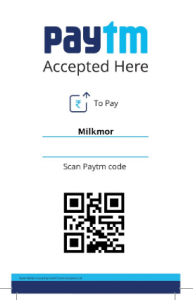 Can I order offline?
You may Call on our Customer Service Line Board (9022220073) between 09:30 AM to 06:30 PM
Can I get a trial?
You can also go for 8 Days trial (Trial offer may vary) before going for the monthly or quarterly subscription.
---
Dairy Farm Queries
---
Can I keep the milk in the same packaging for the long time?
Yes. Max 3 days from the Packed date.
What is your packaging material?
How do you take care of milk hygiene?
We use state of the art technology to milk our cows. Thereafter the milk is directly pumped to Bulk milk coolers and is chilled immediately which resist the bacteria growth in the milk. Thereafter it goes into the processing and packaging line and we assure that this milk is 100% untouched milk which is delivered to our customers.
What is pasteurization?
Pasteurization is a process where in milk is heated at 72˚C and is instantly chilled at 4˚ which controls the growth of the bacteria.
How can you claim its 100% untouched milk?
People who have lactose intolerance have trouble digesting lactose, a type of sugar found in milk and other dairy foods. People with lactose intolerance do not make enough lactase in their small intestine. Without lactase, the body can't properly digest food that has lactose in it. This means that if you eat dairy foods, the lactose from these foods will pass into your intestine, which can lead to gas, cramps, a bloated feeling, and diarrhea.
Do the cows do appropriate movements?
Yes. They are not in tied anywhere. They have a proper and special designated area for cow movement. They are free to move anywhere in the sheds.
How do rich minerals and vitamins are contributed in the milk through fodder?
We use cow dung and other natural products like neem leaves, neem cakes, as fertilizer which increases the bacterial growth in the soil, thereby increasing the fertility of the soils. The soil produces the best quality of fodder which has adequate amount of proteins, minerals and vitamins in it.
How Do you Nurture the cows?
Milkmor Company provides the organic fodder to the farm cows. We have special doctors and care takers for 24*7, hence in case of any issues with any cow will be taken care and necessary remedies will be done. Our cows eat Balanced TMR (Total mix ration) which is a combination of Green Fodder, Silage, Dry Fodder, and other concentrates, our feed is balanced in protein, carbohydrates, fibre, fat and even amino acid balancing with a combination of high quality minerals and vitamins.
---
Products Premium Farm Fresh Cow Milk
---
How Milkmor is different from other milk?
As it is a new concept of providing a premium farm fresh milk to the consumers, itself make a difference from the other regular brands. Also, Milkmor provides the 100 % untouched milk with in few hours of milking process. We have 360 in-house process which starts from harvesting the fodder, feeding & nurturing cows, milking & pasteurizing, Packing & distributing through our own distribution team. Milkmor is providing natural rich cow milk dairy products and feeds rich fodder to the Cows.
Does Milkmor milk contain preservatives?
No. It's farm fresh cow milk and we add no preservatives, thus it has a shorter life and we recommend to consume the natural milk within a day or two and should be kept within the mentioned temperature and not to be exposed in Sun light.
Can I consume the milk directly?
Yes. It's pasteurized milk, thus you can consume it directly till.
Do I need to boil this milk?
No, till the temperature is maintained below 4° C.
What is the fat level in to your milk?
Is this milk natural?
It is 100% Natural. Ideally, major of the milk available in the market are fortified. (i.e. adding ingredients after milking), We ensure that the nutrients, vitamins and minerals are given through fodder to the cows to ensure that the rich milk comes through natural milk secretion.
Is it A1 or A2 Quality milk?
Is Milkmor cow milk or buffalo milk?
---
About Company
---
What Cows do you have?
We've cross-breed Cows of HF & Ongole (Indian Breed) and Gir Cows. The Milk & Ghee is from HF Cows and We've special hand-churned ghee from Gir Cows.
Who is the Owner?
Mr. Mitesh Patel, Co-Founder & Director
Where is your Farm Located?
What is Milkmor?
Milkmor brand is owned by Astha Dairy Farm. The Head Office is based in Ahmedabad and the farm is in Surendranagar District in Gujarat. Pl. refer the link for address. Milkmor is committed for quality dairy products through its owned cows and owned process. Astha Dairy Farm is FSSAI registered.