Raman Uncle is now no more the Slave of Knee Pain!
January 5, 2018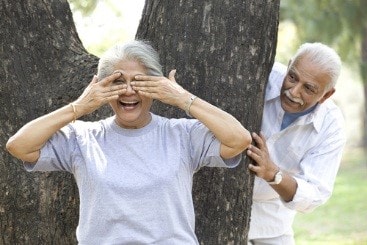 If you're not in your late 50s, you can't imagine as how worrisome a knee problem can be? My Neighbour Raman Uncle had been facing that issue. He use to strain himself very much for every task which we do it in the snap of fingers. I use to meet him daily morning, when I leave for my job and he gives me a smile even though he would be in pain. He use to be in our common plot's garden sitting on the bench and I would be dusting out my two-wheeler to board for my job.
Often the entire way till my office, I use to think the same that how helpless a person can be for which we don't even care for years. Like I never cared for my knees, fooding habits and I am as free as to do whatever I like. I felt very guilty for Raman Uncle that he is being such a selfless person and worked very hard for his family's upbringing his entire life and when he must have thought to relax and enjoy the world, he has been trapped by the knee pain.
I came back driving from the job with the same thought process, had my dinner and sat on internet to browse up the things and I found something interesting. I called up immediately to my friend Shikha who is a nutritionist. She nodded to my decision and I slept with a hope of happiness. I woke up early and met Raman Uncle in the garden that day. As usual he welcomed me with a smile and asked me about my job. It was sunny Saturday and I started my counseling to him. I explained him, "Raman Uncle, I know you're taking medicines for your Knee Pain and you've been still struggling to come out of it. I would like you to refer this print out which I took out yesterday night. It's all about the benefits of banana & low-calorie cow milk which helps for stronger bones and slows down the progression of knee osteoarthritis." He found himself hopeful too while reading all these and I continued my explanation for minutes.
I saw him getting convinced and I dragged out a wonderful basket of Bananas & A beautiful bottle of Premium Farm Fresh Cow Milk – Milkmor for him. He was almost in his tears to see that. It wasn't just the Milkmor Farm Fresh Cow Milk & Bananas. It was more about the feelings and confidence he was seeking for.
Often we get accustomed with problems and accept the problem as a part of our life. Our lives are more important than just being routine. As Life chahe kuch zyaada! The attitude comes within. I am thankful to Milkmor to provide organic cow milk in Ahmedabad. They also guided me for pure cow milk nutrition facts.
Don't just drink any milk. Its time to #KnowYourMilk